In December 2013, when I was nine years old, my family made a life-changing decision that threw my world into chaos. We left dreary, homely, beautiful Lancashire for the picturesque, simply stunning Mornington Peninsula, about an hour from Melbourne. Whenever anyone asks me what I miss most about my birthplace, my answer is simple and unanimous; Ewood Park.
It's been over 2,600 days since I last stepped foot in Ewood Park. It was a place I found myself every second Saturday, chicken balti pie and hot chocolate in tow as rain would teem down, a true encapsulation of Lancashire. It was a place in which I truly felt happiest, my week built around my trip to the house that Uncle Jack built. My first Rovers game I attended (that I can somewhat remember anyway) was a 3-1 victory over that hapless Derby County side in May 2008, when a double from Paraguayan ace Roque Santa Cruz and a goal from Jason Roberts secured all three points that day. I knew from then on, at the age of four, that I was a Blackburn fan, and despite many attempts from my dad's family to switch my footballing allegiances to the claret-and-blue half of east Lancashire, they were ultimately unsuccessful.
I was a season-ticket holder at Blackburn Rovers for four seasons, experiencing Premier League and Championship football during this time. I had some brilliant memories, headlined by seeing Yakubu bag a hat-trick against Swansea City in a 4-2 win, walking out as a mascot with current Crystal Palace defender Scott Dann before a win over Sunderland, and taking a penalty on the hallowed Ewood turf for my school St Mary's Osbaldeston, though I unsurprisingly missed! My final trip to my favourite football ground in the world up to now came in a regulation, forgettable 1-0 win over Leeds United in the late November of 2013, when Tommy Spurr scored the eventual winner on the stroke of halftime. It is perhaps crazy that the last goal I ever saw at Ewood was scored by someone like Tommy Spurr, and while he divides opinion amongst Rovers fans, for that moment alone he will always hold a special place in my heart. Just a matter of weeks later, I left behind all I ever knew, and departed for the Land Down Under.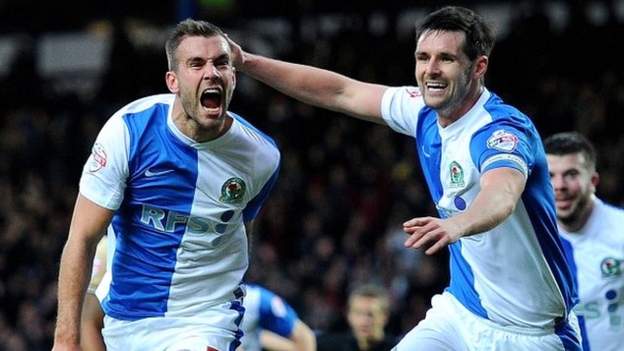 Following a team outside the Premier League halfway around the world is never easy. iFollow did not exist in 2013, so Blackburn games were only broadcast on Australia's version of Sky, on a channel we didn't have. Due to this, while I never fell out of love with the club whatsoever, I lost a bit of a connection with it and therefore part of my identity, which is perhaps inevitable when you live 10,500 miles away from where they are based.
We are proudly partnered with sixyardsout.com. Use code RoversChat for 10% off
The only exception to this were FA Cup games, which I would record and watch the next morning. Most of our games in our storied run to the sixth round of that competition in the 14-15 season were broadcast on ESPN, including that 4-1 win over Stoke City, where a clinical hat-trick from Josh King overpowered the Potters. From then, I watched games whenever I could, which was mostly limited to FA Cup games. Following the club consisting of waking up and checking the scores in the morning, which was not ideal, but I still found a way to keep in touch with the football club I held dearest.
Perhaps my worst moment as a football fan happened while in Australia, when a 3-1 win away at Brentford was not enough to preserve our Championship status. The 1-0 loss at home to Wigan Athletic that saw us dumped out of the top-flight comes close, but unlike that day, there was a realistic chance that we could survive the drop. A blistering start gave Rovers hope, with a stunning free-kick from Charlie Mulgrew and a goal from veteran centre-midfielder Danny Guthrie sending me into raptures at ten past midnight on a May Monday morning. Lasse Vibe halved the deficit, before a Craig Conway penalty sealed the points. Birmingham and Nottingham Forest won their games though, rendering our brilliant away victory redundant and sending us to the depths of League One. I was distraught, devastated in fact as the second relegation in my lifetime left my club in the worst state I've ever seen it.
It was around this point in my life that many of my friends were now football fans. I'd moved schools just before our relegation to the third tier. Rather than the traditionally more popular Australian Rules football, the Beautiful Game was the talk of the town. My best mate is a Newcastle fan, and on my first day at the new school, I was happy that I'd have "someone to talk about the Championship with", though, as we know, that did not last long! Due to my English background and love for football, I had no such trouble partaking in the football discussions, and in an effort to cement this, I organised nights where we could watch football, which we labelled 'Prem Nights'. I was saddened that while my friends of Newcastle, Liverpool and Arsenal persuasions could watch their teams play, since I wasn't in possession of an iFollow subscription at this point, I had to refresh the official Rovers Twitter feed in order to keep up. This was something I wanted to change and bought an iFollow subscription for the 19-20 season, and it is perhaps one of the best decisions I've made. I could now watch the club I've adored from a young age on a regular basis and while the 2am kickoffs on Sunday mornings absolutely destroy your sleeping pattern.
There's only one thing I'd rather in the world; I'm wishing, like all Rovers fans are at the minute, to get back through the turnstiles at Ewood. To join the thousands and thousands of Rovers fans there is a day I've been anticipating for seven and a half long years, and the day we all return will be one of the best of our lives.
Thanks for reading.